March is the Month of Dreams!
The Month of Dreams is an annual campaign where The Dream Factory partners with the students and staff of Manitoba schools to help raise funds so that our Dream Kids can experience the magic of a dream come true.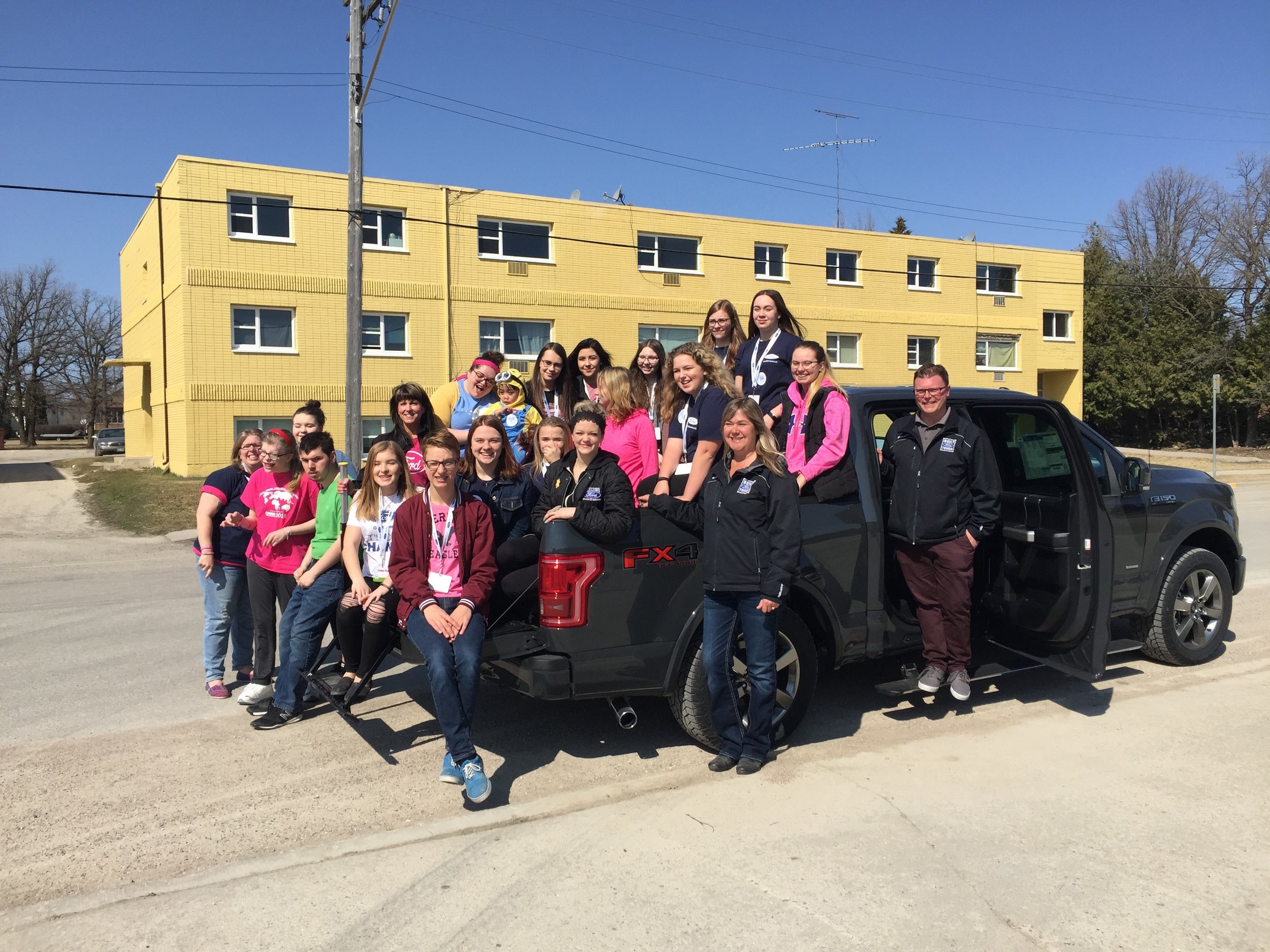 Pictured: Students at École Edward Schreyer School celebrating some amazing fundraising as part of the 2017 Month of Dreams Campaign!
Having a dream come true provides a child with hope, joy, and ultimately happy childhood memories during an otherwise very difficult time.
There are two ways that your school can help to bring dreams to life:
1) Hold a Fundraiser
Wear Green for a Dream: Every student who donates to Month of Dreams can wear green for St. Patrick's Day.

Hoop-a-Thon: Have students and teachers collect pledges for every time they get a basketball in the net.

Bake Sale: Have students and their parents bake tasty treats and sell them at the school canteen.

Dream Dance: Hold a school dance in support of our Dream Kids and collect donations through an admission fee.

Community Yard Sale: Have people donate their gently used items and then hold a fundraising yard sale and invite the community.

Phillip the Jar: Decorate jars to look like people and to collect change so that they can "Phillip" the jar for dreams.

Family Fun Day: Invite families to a school BBQ and collect donations by holding games and selling food.

Create Your Own: Let students express their creativity and come up with a brand new fundraising initiative!
Have a fundraiser every week and hold a celebration for meeting your fundraising goal at the end 0f the month!
2) Sell Dream Clouds
Your school can also choose to sell our "Dream Clouds" to raise funds. For every $1 .00 that a student donates, they will receive a Dream Factory sticker and a "My Dream Is. . . " dream cloud to fill out. Your school can find many different creative ways to display them throughout the school to show the wonderful charity work that your students are doing.
PRIZES
Each participating student will be entered for a chance to win 1 of 3 $100 gift certificates to Chapters!
AND
Each participating school will have a chance to win a $300 gift certificate to Chapters for their school library.
Contact Info
Please do not hesitate to contact me with any questions, comments or concerns you may have. You may also request your participatIon packages to be in French.
Dave McKnight
204-989-4010
dave@thedreamfactory.ca
Your school has what it takes to make dreams come true!
Thank You Manitoba Egg Farmers!
Manitoba Egg Farmers is proud to support the Dream Factory's efforts to encourage kids to help other kids experience a dream come true.
"We were inspired by the enthusiasm of Manitoba students and their teachers to help raise funds to put a smile on the face of a child battling a life-threatening illness," said MEF's General Manager Cory Rybuck.
Click here to access a wonderful educational resource about where your eggs come from!
Register your School Today: