Meet Maia
Dear Friend of The Dream Factory,
Last year, we didn't know much about The Dream Factory. Today, our family is forever connected to this incredible organization that has changed our lives.
Today, we'd like to share our story with you.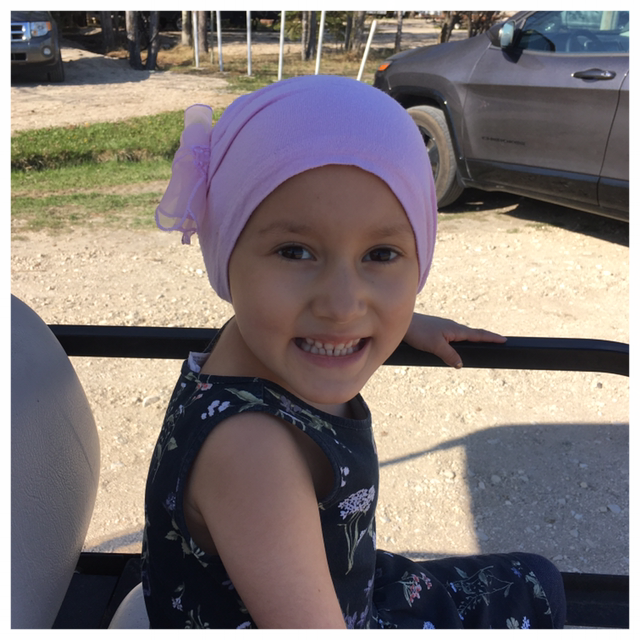 She LOVES cats, especially wild cats, with her favourite being cheetahs!
On April 5th, 2017, our world came crashing down on us. Our 3-year old daughter Maia was diagnosed with Very High Risk Acute Lymphoblastic Leukemia. She hadn't been herself for a few months, but there were no indicators that it was something so serious. A few weeks before her diagnosis, things changed. She developed a fever that wouldn't go away, had many bruises on her legs, no appetite, and little energy. The day we brought her to the Children's ER, she had little blood spots on the bridge of her nose. Hours later, we were given the news that would change the course of our family's life, and begin Maia's fight for her own.
Maia endured 10 months of intensive weekly chemotherapy in the form of oral drugs and steroids, IV medication, spinal taps with chemo, painful intramuscular injections, and cranial radiation to combat the leukemia cells that had made their way into her spinal fluid, and likely into the lining of her brain. She lost so much body weight that she had to have a feeding tube run through her nose for the majority of those months to ensure she was getting enough nourishment. She's had to stay away from crowds, indoor public areas, and many other places that could put her in danger due to her compromised immune system. She's been hospitalized with fevers and dangerously low blood counts, and has lost her hair 3 times.
Maia is now 4 years old and is in a less intense phase of her treatment, called Maintenance. She has just finished her 5th month. We now go to CancerCare once each month for IV chemo, bloodwork, and a checkup. We give her oral chemo every day, along with steroids 5 days each month. Every 3 months Maia has a lumbar puncture where she receives chemo in her spinal fluid. She no longer has a feeding tube and is maintaining her weight well. She is due to complete her treatment in August 2019.
Maia has missed out on so many of the "normal" things a 3 or 4 year old child gets to experience, but through it all, she has shown incredible strength and courage. She is still the awesome kid she has always been and continues to amaze us with her spunk. Maia is smart, precocious and very curious. She loves to learn about how the world works, read books, colour and do crafts, and play all sorts of imaginary games. She attends nursery school when she is healthy enough to do so. She LOVES cats, especially wild cats, with her favourite being cheetahs. Maia has decided she wants to be a veterinarian for only cats when she grows up. Recently, she has also added archeologist, cowgirl, and doctor to her career aspirations.
Maia also loves to "look fancy" and wear dresses, nice shoes, purses, etc. She is enamoured by the Disney princesses, particularly Elsa from Frozen.
When deciding what her dream would be, Disney World was the obvious choice! At Disney, Maia will go to a special boutique to become Princess Elsa for a day, go on a Safari to the Animal Kingdom and see a cheetah in "real life," meet all her favourite princesses and characters, and go on the "Dinosaur" ride. Everything she loves in her little world will become real to her, and our family cannot WAIT to watch our little girl bask in the joys of life.
Cancer has not only affected Maia, but each member of our family. Maia's baby sister Amelia, was only 5 months old when she suddenly had to spend nights away from mommy while we stayed in the hospital with her sister. As a busy toddler now, she has had to stay home and miss out on experiences because we need to keep our family away from too much exposure to germs.
Maia's Dream Trip will be a breath of fresh air for us, a time to reconnect and make new memories. We are anxiously anticipating the day we get to go. While we wait for Maia's health to be stable, The Dream Factory continues to find ways to bring joy and fun into our lives.
Through The Dream Factory's Family Funds, we were able to purchase a new double stroller to get out on family adventures. Maia's mobility and energy is limited, and she gets very tired and sore. We didn't anticipate needing a stroller for our almost 5 year old and our 1 year old. The double stroller has given us the freedom to get out around the city to exercise and explore, keeping Maia safe and comfortable and our toddler contained!
During the most difficult time of our lives, The Dream Factory has given us support, joy and some "regular" life experiences that we so desperately need. We are so grateful for all they have given to us.
Thank YOU for being part of bringing that joy to some of the most deserving kids out there, including our sweet Maia!
Love,
Alicia, Rob, Maia and Amelia
Dream Update: Maia's Trip to Give Kids The World!
Maia and her family had the BEST time on their trip to Disney! She even prepared a story for us so that we could share in the fun! Check out some of Maia's highlights below: